People of the Biodynamic Education Centre
Tutor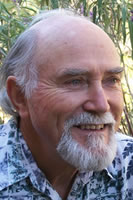 Walter Kohler-Bond has taught Horticulture and Landscaping, Conservation issues and Permaculture for many years at TAFE, adult education and also conducted workshops privately in Permaculture, Bush Food, Home Gardening and Bee-keeping.
Walter has an Associate Diploma in Horticulture and a Diploma in Permaculture Design. He is also an Accredited trainer and Workplace Assessor.
Walter has been a trainer with the Biodynamic Education Centre for over 5 years and is also a field assessor.
He lives with his family in a mudbrick house on a small property on the NSW South Coast and utilises biodynamic practises and permaculture to develop their orchard, gardens and bee hives. The property has been the site of many of Walter's workshops.
Assessor for the Certificate Program
Tom O'Kane
Administrator/Managing Director
Cheyne Unwin, Lynette's eldest son, will continue to manage the administrative side of the business. Cheyne has a background in the computer industry and is an invaluable member of the team; from responding to enquiries to maintaining our communications networks. Cheyne is also a member of the board, along with his brother Daniel and sister Tara. To contact Cheyne: info@comingsoon.biodynamiceducation.com