Certificate Program for Biodynamic Farming and Gardening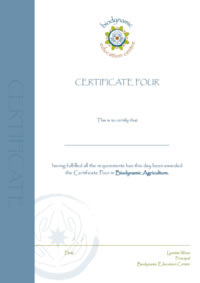 The course is suitable to people of all ages wishing to develop their knowledge and skills for biodynamic practice.
All workbook activities can be completed on your own site or you may adopt a site to work with.  There is a tutor available via phone, email and on a web based forum.
Participation on the Certificate Program requires approximately five hours per week study in conjunction with practical application of biodynamic practices. The course takes approximately 2 years to complete.
Full support services and tutors are provided by the Biodynamic Education Centre throughout participation on this program.
Click here for Course Brochure.
Click here for Timeline and Sequence of Modules.
Click here to see the Course Package.
Click here for full details of the Certificate Course.
Click here for testimonials.
The Certificate Program costs AUD$5500 and we have time payment options available.
Contact BD Education Centre for further information.